ELTRIP-R10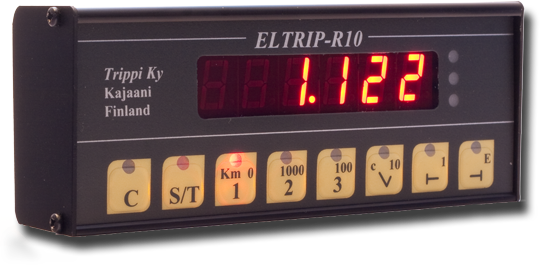 ---
ELTRIP-R10 is excellent meter for Rally- and ST drivers. Bright self-illuminated display makes the readings easy to read at any lighting condidionts.
Clearly marked buttons make meter usage easy and quick, as all main operations are reachable with single key press.
ELTRIP-R10 comes equipped with ease of use by default, as during race there is no time to ponder how to use the meter. You are always just one key press away from the information you need - be it clock time, distance, speed or any other.
Reliability and durability are also key features of ELTRIP-R10. The meter has been designed with over 10 years of experience to tolerate even hashest operating environments and work reliably year after year - some of our products first delivered 25 years ago are still in use today!
---

Keys starting from left:
C trip / stopwatch reset
S/T speed +
avg speed +
stop time
1 metre trip (näytössä)
2 . 3 10m trips
V time of day
|- start stopwatch
-| stop stopwatch
---
Can be used in kilometre-based or mile-based meter
ELTRIP-R10 can be set to automatically start stopwatch when vehicle starts to move.
Keys are backlight, making it easy to find the keys even in dark
3 independent distance counters; one with 1 metre resolution, two with 10 metre resolution
Clock with 24-hour display (hours, minutes, seconds)
Freely clearable, startable and stoppable stopwatch, making it possible to use it either stop section or total time measuremnt.
Accurate speed measurements - no matter if cars speedometer doesn't work
Available with extra equipment that allows meter to be used to measure either RPM or speed.
Average speed measurement when stopwatch is active
Stopping time, ie time when stopwatch was stopped
External reset: You can use external switch to clear the reading of the meter as needed
Reverse measurement - meter counts backwards when vehicle is in reverse
Dimensions:
width 120 mm
height 46 mm
depth 30 mm
Easy to place in the car!
---
Contact us
for pricing and delivery information.