ELTRIP-R20 - Next generation rally meter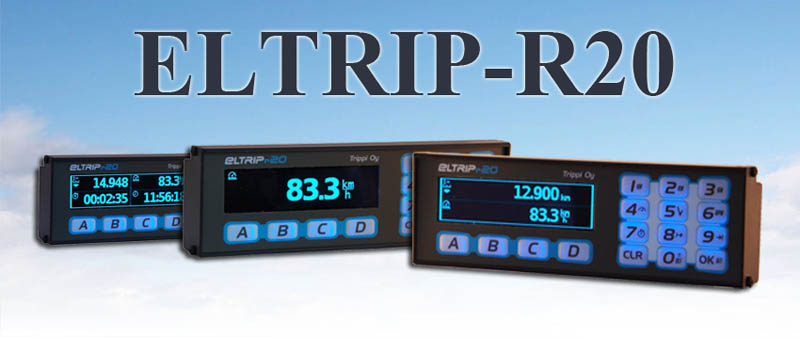 Update Sep 2013: Affordable Eltrip-R20 LE model is now available. LE has fewer features than full R20, making it perfect for a limited budget.


Update Nov 2012: Interested on seeing how our meters tolerate being installed on a motorcycle? This summer I had an Eltrip-R20 on my motorcycle. Pictures and report on what happened can be found here.


---
ELTRIP-R20 is a next generation rally meter that is specially designed for rough environment. Self-lit graphical display is easily readable in any lighting conditions and ability to select any combination of information to the display at a given time makes reading the display easy even at during the toughest race.
You can define the meter display to show exactly the information you need - from one large full-screen reading to up to four different information displays. Internal RPM measurement with change light indicators allow you to concentrate to the road instead of the engine. And your own freely selectable image or logo makes your car just that special bit of more representative during those pit stop shows...
Features of R20:
Self-lit display with adjustable brightness
1-4 displays shown at same time, as needed
Three independent distance counters (trips), one with 1-metre resolution, two with 10-metre resolution
Accurate speed, even if vehicles own speedometer wouldn't work
Accurate real-time clock that keeps running during short power outages
Stopwatch with 0.01 second resolution
Arrival time (clock time of last stopwatch stopping)
Engine RPM measurement with gear change indication control
Average speed measurement
Average speed target as time - meter shows difference to target speed as time
External counter reset with suitable switch
Reverse calculation when needed
Can be programmed to show your own custom logo
Fuel amount measurement (r20-f model only)
R20 is also available as affordable R20 LE -model, where some of the features of full R20 are not available. As R20 LE can be upgraded to full R20 at any time, it is perfect for a limited budget - if you don't need all the features of R20 right now, you can get R20 LE and upgrade it later.
Features of R20 LE as they differ from standard R20:
Only 1 information on display
Distance counters function at 10m resolution
No engine RPM measurement, gear change indicators or time display of average speed
Stopwatch has 1 second resolution
Speed at 1 km/h resolution
Only km and km/h available as distance unit
No fuel measurement
---
We can deliver meters within European Union region.
Contact us
for details, or information about our export (non-EU) pricing and policies.
You can download
Eltrip-R20 manual (PDF) here
.
Eltrip-R20 pricing (incl. VAT)
| | |
| --- | --- |
| ELTRIP-R20 | 496,00 € - Includes magnetic sensor and 3 magnets |
| ELTRIP-R20 | 450,63 € - Without sensor |
| ELTRIP-R20 LE | 365,80 € - Affordable basic mode; includes magnetic sensor and magnets |
| ELTRIP-R20 LE | 322,40 € - Affordable basic mode; without sensor |
| ELTRIP-R20f | 616,97 € - With fuel measurement and magnetic sensor + 3 magnets |
| ELTRIP-R20f | 571,62 € - With fuel measurement, no sensor |
| Sensor ET-RD/R | 69,46 € - as accessory, including 3 magnets |
| Pulse divider /8 | 29,26 € |
| Custom logo | 24,80 € |