Eltrip-65n -series precision distance meters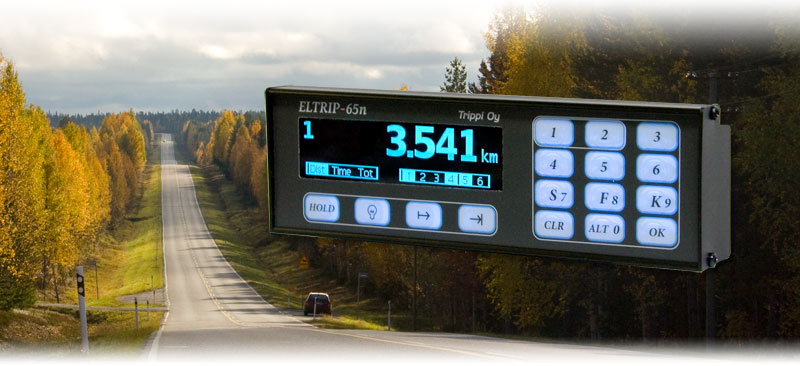 Eltrip-65n series precision distance meters have been designed to be reliable and easy to use in demanding Nordic conditions - be it freezing cold or scorching hot outside.
In your own language
At the moment Eltrip-65n -meters are available in Finnish, Swedish, English, Estonian, Norwegian and Russian languages. If you are interested of importing meters to your region, we can discuss of providing translation for you too.
Eltrip-65n -meters include 6 independent distance counters that can be cleared anytime and of which 1 to 5 can be freely selected to be active at any given time. Each distance counter also includes time- and total distance counters that allows you to track all your drives, both short and long.
Meters can be connected directly to most vehicles' distance pulse or, if needed, a sensor can be added to vehicle's wheel to measure the distance. Meters can be connected to count backwards when reversing so a crossroads missed by a few metres will not ruin your measurement.
Installation of meter is easy - you can install it yourself, or contact a local professionals for assistance. We can provide you the necessary information for many (not all, unfortunately) vehicles to assist the installation.
Eltrip-65nc -model also includes computer connectivity which allows you to transfer measurement results directly to a computer, phone, tablet or any other suitable device. Connection to some devices may require an external Bluetooth adapter. You will only need suitable software for the device you are using to read the results. We can provide you with basic measurement application for Windows PCs, or even more refined solution tailored specifically to your needs.
Available models
Eltrip-65n
6 independent distance counters, of which 1-5 may be active at any given time
Adjustable display brightness for anything between dark midnight and bright midday operation
Pre-set of counter 1; you can set the meter to count up or down from given reading
Each counter includes distance, time and total km counters
Mile-based version available on request
Ability to stop counting with external signal
Easy to use
Very accurate - can be calibrated to each vehicle for even better than 1m/km accuracy
Accurate driving speed
Automatic display off
Small - 147 x 46 x 24mm (W x H x D) - easy to install
Eltrip-65n10
Light version of Eltrip-65n. Same features as with 65n, but counters only have 10 meter resolution (instead of 1m) and meter cannot measure distance in reverse.
Eltrip-65nc
Same features as with Eltrip-65n. Additionally includes connectivity to a computer, phone, tablet or such device. Wireless link requires an external Bluetooth adapter.
Eltrip-65nce
High-precision meter for 0,1m (10cm) display resolution. See
here for more information.
Eltrip-65nk-series
Wintertime road maintenance, as well as accident reason determination (in cases such as sand or mud on road that may have been a reason) require accurate road friction measurement equipment. This is provided by Eltrip-65nk -meters.
See
here for more information.